Muziek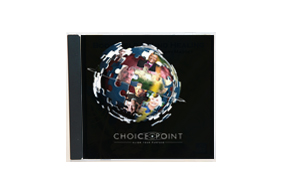 Choice Point: Align Your Purpose
Deze CD bevat de muziek van de film: Choice Point: Align Your Purpose, 18 geluidsfragmenten met een imprint, plus 3 bonustracks die plezier en andere extra's toevoegen aan de eerste set. Het geheel biedt meer dan 1 uur en 15 minuten muziek met een doel: van ondersteuning om het bewustzijn te vergroten tot het ontmantelen van oude denkpatronen, van het stimuleren van creatieve vermogens tot het stimuleren van een betere connectie met de aarde, het lichaam en de fysieke zintuigen. Ongeacht wat u 'in het nu' nodig heeft, er is altijd een track die past.  
Tracks:
The Alchemy of Fractal Reality
Choice Point Activation
As Shiva Dances (Pattern Disrupt)
Facing the Great White Light
Alchemical Transition, Interlude
And So The Journey Begins
Emergence
Releasing (Just Let Go)
Destined For Illusion
In Sway With the Pulse of Creation (Easy Duzzit)
Global Alchemy
A Hierophant's Wisdom
See Beyond Looking (Signs Are Everywhere)
Cosmic Flow
The Gateway to Knowing: Questions Without Answers
And So the Knowing Arrives
Scaling the Waves of Change
And You Shall Rise, Reprise
BONUS TRACKS:
1. Love is The Point
2. Presence is Perfect
3. Trance Into the Dawning (Trance Mix)
Bestel de Choice Point: Align Your Purpose CD of download de tracks via iTunes of Amazon
Bekijk de NES Health DEMO
Zie hoe het NES Health Total WellNES Program ook grensverleggende resultaten kan bieden voor u, uw praktijk en uw clienten. Registreer hier om gelijk de video te bekijken.